Other Products
Spiral Springs

Spiral springs maintain their shape with no casing. With many years of experience in manufacturing spiral springs, We can produce them for your production requirements.
Disc Washers

Disc springs also called as Belleville washers are conically formed angular discs, which are loaded in the axial direction. Disc springs offer a well developed solution to many engineering problems. Through a unique combination of high force in a small space, disc springs can be used as single disc or arranged in stacks.
Wave Washers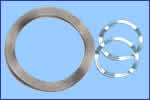 Wave spring washers are usually used in thrust-loading applications for small deflections, particularly where radial space is limited. A typical example is the axial loading of ball bearings.
Zigzag Spring

A zigzag spring system is used in all furniture. These steel springs provide extra strength and added support for the seat cushions. This superior system outlasts the traditional webbing system from which most furniture on the market is made.
Tubing

Over the years, we are constantly expanding into different manufacturing fields and now we are capable of coiling and bending tubing in a varity of sizes to our customer's specifications
Electroplating Jigs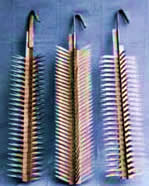 We are able to manufacture Electroplating industrial jig and fixtures which are used in ABS, Nickel, Chrome and Zinc plating to hang the components to be electro plated.